Bu! at The Hub, World Trade Centre Mall
Delicious food, fun, friendly staff and very lively atmosphere are just some of the words that come to mind when we think of Bu!
This Latin American restaurant located on the fourth floor of the Hub in the World Trade Centre Mall provides a truly unique brunch experience and all from the comfort of your seat. Yes, you never have to get up as everything is prepared for you fresh and brought to your table
The brunch menu includes all the Latin American favourites. Spicy potatoes and guacamole starters are just amazing and the ceviche is phenomenal. It's a must-try even if you are not generally a seafood fan. The chef provides three ceviche options, tuna, prawns, sea bass, and each one is just bursting out with rich and tasty flavours. You can always be adventures and create your own.
You will be tempted to ask for more of everything that is brought to you but don't be hasty, as there is more yumminess to follow.
The tacos are just divine and perfect. There is also barbecued and grilled meats that will come to your table including Asian-style beef and chicken skewers and a very tender lamb presented on the grill.
The gastronomy continues as the giant bowl with a selection of desserts arrives. The coconut sorbet and the cheesecake are simply exquisite.
By the end of this brunch, no matter how full you are, the infectious live Latin American music will have you dancing and you will not want to leave.
What: Bu! Brunch
Credit card: Yes
Packages: Dh250 to Dh450
Location: The Hub, World Trade Centre Mall
Brunch timing: 12.30-4pm
---
Giornotte at Ritz Carlton Abu Dhabi
Whether you are looking to meet with a big group, go for a family meal or a fun afternoon with your other half, the Giornotte brunch has something for everyone.
There are many little touches that make this brunch one of the best in town but some that jumped out for us were; there are as many choices for drink stations as there are live food stations, the emphasis placed on the five-star presentation even when you are making your own dish, and the seemingly endless choice of seafood.
When it comes to the food you will definitely be spoilt for choice. From freshly cooked scallops, a long list of pastas and ingredients that allow you to create your own to a Mexican corner that makes traditional enchiladas, there is no shortage of options. And everything is cooked to perfection.
If you are a seafood lover you are in for a treat. There is a bit of everything including lobsters, king prawns, oysters, mussels and much more.
Other must-tries include dim sums, cheese from a room filled with 45 different types of cheese and a nachos station with all your favourite dips.
Do pace yourself as there is an entire hall dedicated to every type of colourful desert that you can imagine, including crepes, cakes, fondues and cotton candy.
Children will also be having fun and looked after in a dedicated area that is equipped with toys, video games and a minder.
What: Giornotte Brunch
Credit card: Yes
Packages: Dh295 to Dh495
Location: Ritz Carlton Abu Dhabi, Grand Canal
Brunch timing: 1-4pm
---
Crust at Four Seasons Abu Dhabi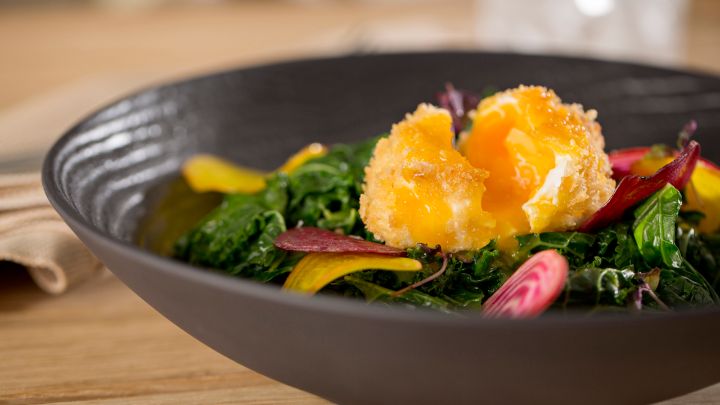 If you are looking for a truly exceptional and personalised service or a brunch that is fully equipped for children, this is the place to visit.
Located in the hotel's Crust restaurant on Maryah Island, the venue has a super chilled out ambience complemented by its sea view location. The extremely friendly staff will address you by your name, attend to you regularly and make you feel like you are right at home. You may even find the Four Season's General Manager, Sam, stop by your table for a chat.
The venue has also found the perfect recipe to accommodate children, which is an enormous room with a bouncy castle, face painting, games, fun activities and snacks, all under the watchful eye of dedicated staff.
The brunch is a mixture of a traditional style buffet with surprise fine-dining quality tasting platters that are served at your table.
Seafood lovers will be able to enjoy a wide selection of oyster and sushi at the Raw Bar.
But don't fill your plate with the luscious buffet food, which includes prawn and meat skewers, mouth watering fish, pizzas, Asian dishes, roasts, salads and even breakfast, or you will regret it when the trolleys come to your table.
The trolleys have plenty to choose from including couscous, frog leg tempura, bruschetta, lamb, a must-try chicken soup, truffle risotto and a tasty sub on wheels, if you manage to catch it on the day you are visiting as selections may change weekly.
The dessert section is exquisite and seems endless. From cakes, mousses to sorbets and fondues, chances are if you can think of a particular dessert it is probably available here.
What: Crust Brunch
Credit card: Yes
Packages: Dh275 to Dh545
Location: Four Seasons Abu Dhabi
Brunch timing: 12-4pm
---
Roberto's Abu Dhabi – Rosewood hotel
Roberto's has the ultimate fine-dining brunch. This waterfront venue, on the Capital's glamorous Maryah Island, will treat you to the very best of Italian cuisine at your table ensuring you only get up to visit the oyster or desert bars. And even then one of the friendly staff will assist you with your dish.
At first glance the menu seems limited, you have to select one section from three options of starters (each section has six dishes) and only one main course. Well, looks can be deceiving. There will be so much food placed at your table that you will be full before you even get close to your main course, as there are surprise dishes that are not on the menu sent to your table.
Do try the selections with the beef tartar and the slow-cooked roasted octopus, they are truly exceptional while the perfectly cooked calamari and the incredibly refreshing crab with lobster and king prawns dish will leave you wanting more. There are also a number of surprise dishes that are brought to your table including Roberto's famous margarita pizza, linguine in a simple but heavenly butter cheese sauce and mushroom risotto prepared at your table. And be aware these portions are big.
Like us, you may have to ask for a small break before your main course arrives.
We highly recommend the duck for the finale. It is beautifully cooked and simply delicious.
No matter how full you are, a glance at the luscious dessert bar will magically entice your appetite again. The chocolate mousse and the pannacotta are to die for. If you prefer a dairy free desert, an often challenging task when it comes to desserts, just inform the staff and Roberto's masterful chef will prepare something special for you.
What: Roberto's Abu Dhabi Brunch
Credit card: Yes
Packages: Dh295 to Dh495
Location: The Rosewood Hotel
Brunch timing: 12-4pm
---
Nahaam at Jumeirah Etihad Towers
Nahaam's waterfront location and relaxed ambience provides the perfect setting for a chilled out afternoon surrounded by a wide variety of delicious food. From grilled meats and seafood, Arabic favourites, to pastas, salads and roasts, there is something here for everyone.
There is so much to choose from that you may need a plan of action. We recommend you start with the seafood and salads inside the venue before heading out to the terrace for the grills and barbecues.
The seafood section, located inside, is humongous and includes everything from muscles and prawns to oysters and lobsters.
Our favourite area has to be the grills and barbecues on the terrace. Made to order, everything is fresh off the grill and onto your plate. The barbecued lamb and beef are a must try.
There are also burger, manakish and shawarma stations that are highly recommended.
Another plus is that there's a corner dedicated to children where they can make their own selection. But the mini burgers, mini cakes and the popcorn vending machine are also popular with the adults.
Last but not least, the desert section is simply heaven like. It can be very difficult to choose a favourite from the towers of cakes, the rows of ice cream and other deserts, so make sure you have left enough room to try a bit of each.
What: Nahaam brunch
Credit card: Yes
Packages: Dh285 to Dh495
Location: Jumeirah Etihad Towers
Brunch timing: 12.30-3.30pm
---