The weather in Dubai is finally taking a turn for the better and with that in mind it's time for everyone to get back outdoors and enjoy the breeze.
---
Luna Sky Bar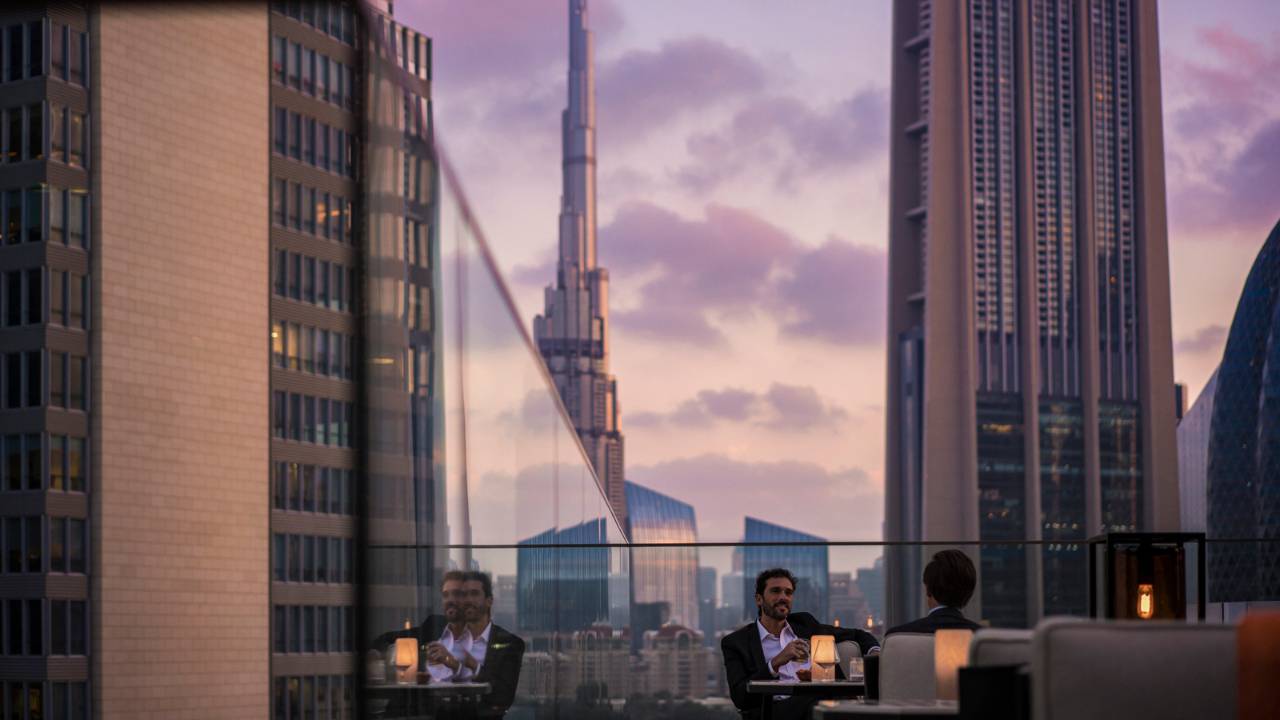 This Dubai hidden gem was a recent Instagram discovery. A rooftop bar that's designed with very aviary features. The ceiling fixtures look just like the feathers of a bird, while the bar features cage-like displays. But outside is where the real beauties are: Views of the city, a nice breeze and comfortable couches. If you prefer to stay inside, then sit by their ceiling to floor windows which offer Dubai's display of the skyline lights, including Burj Khalifa and DIFC. Enjoy creative beverages and a high end dinner service with a selection of Japanese specialty sharing plates, with favourites including Maldivian Tuna Poke, Vermicelli Noodles and Yellow Chilli Chicken Gyoza.
Location Four Seasons DIFC Timings Daily from 5pm to 3am Contact 04 5060300
---
Azure Beach
For the ultimate beach side sundowner, Azure Beach has just what you need. Having recently launched The Sunset Tribe, every Sunday to Thursday from 6pm to 8pm, as the sun sets over the Arabian Gulf, the tunes start, and The Sunset Tribe comes out to play. Offering complimentary entrance, Azure Lounge transforms into the ultimate sundowner hangout, where guests can enjoy two for one on house beverages, while soaking up the deep house vibes. Adding to the atmosphere, flames will flicker from outdoor fire pits to keep the evening alive long after the sun has gone down.
Location Rixos Premium JBR Offer 2 for 1 house beverages Timings Sunday to Thursday from 6pm to 8pm Contact 052 7779472
---
Al Sarab Rooftop
Bab Al Shams's authentically Arabian rooftop offers stunning views of the desert's dunes, inviting guests to immerse themselves in the UAE's authentic landscape. Offering true Arabian ambience, Al Sarab Rooftop is inspired by a royal Majlis, complete with grand Arabesque lanterns and comfortable floor cushions, presenting an opulent roof top experience; the perfect place to watch the sun set over the sand dunes and escape the stress of the city.
Location Bab Al Shams Hotel Cost various Timings Daily from 4pm to 1am Contact 04 8096194
---
Gaucho
Gaucho DIFC have timed the opening of their newly revamped terrace just right, with its launch coming in November 2017. The terrace will have a whole new look and feel with a sleekly chilled design featuring various areas that can accommodate and enhance whatever mood its guests are in. For those who want to enjoy the vibes, the extended terrace at Gaucho will offer the DIFC crowd a lounge area with comfortable low down seating putting you in the perfect position to relax.
Location DIFC Timings Weekdays from 10am to 11.30pm and weekends from 12pm to 11.30pm Contact 04 4227898
---
Iris
Located on the 27 floor of The Oberoi Hotel, this open-air restaurant and lounge offers spectacular views of the city's skyline through floor-to-ceiling windows and a glass roof. Untreated wooden floors and modern pendant lights give the venue's interiors a distinctly urban vibe, while bar stools grouped around small tables keep the space feeling informal. Daily beverage specials, a live band and resident DJ specialising in lounge music in makes Iris the ultimate inner city escape to unwind at after a busy day.
Location The Oberoi, Business Bay Timings Daily from 5pm to 3am Contact 056 9511442
---
Shimmers
Shimmers sits on one of the best locations in Dubai, right on Madinat Jumeirah's private beach with great views of Burj Al Arab Jumeirah. Offering Resort guests and local residents authentic Greek cuisine and a casual chic atmosphere, the white washed woods, textiles in turquoise shades and relaxed seating on the sand offer the most ideal escape, just steps from the sea.
Location Al Qasr, Madinat Jumeirah Timings Open daily for lunch from 12pm to 5pm, dinner from 6pm to 12am and the lounge is open from 12pm to 12.30am Contact 04 4323232
---
Treehouse
Set amidst lush greenery with an ornate fireplace serving as a focal point, this intimate lounge looks more like a plush living room than an outdoor terrace. Renaissance décor paired with shades of grey and taupe give this space a refined edge. A Mediterranean-themed small plates menu is available but the focus here is on the beverages with the extensive molecular mixology menu providing plenty of interesting beverage options. Looking directly over Downtown, Treehouse has an unobstructed view of the soaring Burj Khalifa and is the perfect place for a night out with the girls.
Location Taj Hotel, Business Bay Timings Weekdays from 7pm to 3am and weekends from 12pm to 3pm and 7pm to 3am Contact 058 8272763
---
The Hide
The Hide brings a modern twist to the Dubai culinary scene and serves up a fresh take on American cuisine. The concept has been inspired by the coolest modern meateries in gastronomic capitals such as New York, Chicago and Los Angeles.
Location Al Qasr, Madinat Jumeirah Timings Sunday to Thursday from 6pm to 12am, Friday from 7pm to 12am, Saturday from 6pm to 12am Contact 04 4323232
---
Scape
Perched on Burj Al Arab Terrace and extending over the Arabian Gulf, the restaurant presents a new and unseen perspective of the hotel, as well as an inventive take on social dining. The menu features a novel blend of ingredients, drawing inspiration from Latin America, the Mediterranean and Asia to deliver rippling flavours in a style that can be described as casually gourmet
Location Burj Al Arab Timings Open daily for lunch from 12pm to 3.30pm, dinner from 6pm to 11pm and the lounge is open from 6pm to 1am Contact 04 3017600
---
Culinary Boutique
Every aspect of this stylish eatery whispers class: the tasteful decor, discreet staff, gourmet menu and intimate atmosphere. Owned by a woman who's passionate about food, it's a must-visit. It's open for breakfast, lunch and dinner, and serves an eclectic menu covering a range of tastes. We loved the egg white soufflé and couldn't get enough of the mini doughnuts. Bag a table on the upper terrace and you'll even get a view of Burj Khalifa through the trees.
Location Jumeirah 1 Timings Daily from 8am to 11pm Contact 04 345 0023
---
Mercury Lounge
Boasting views of the Burj Khalifa and the Arabian Gulf this sophisticated spot is ideal for kicking back and watching the sun set. Arabesque detailing features heavily while dramatic columns effectively zone off smaller areas for those seeking a bit more privacy. A futuristic-looking white orb forms a bar area for the skilled bartenders to mix up a whole range of innovative concoctions and shisha is also available for those who desire it.
Location Four Seasons, Jumeirah Timings Daily from 6pm to 2am Contact 04 2707804
---
Summersalt
Long beach days, lazy lunches and unforgettable views. Overlooking the serene waters of the Arabian Gulf, Summersalt Beach Club is the perfect place to soak up the sun and have fun with friends and family.
Location Jumeirah Al Naseem Timings Daily from 8am to 11.30pm, Dinner is served from 7pm onwards Contact 04 4323232
---
Atelier M
Spread over three levels, art deco-inspired Atelier M contains a restaurant, lounge and rooftop bar. Simple and chic, the rooftop bar enlists a monochrome colour scheme punctuated with grey soft furnishings and hints of greenery. This is the place to be when the sun goes down and the Marina comes alive with glittering lights.
Location Pier 7, Dubai Marina Timings Daily from 6pm to 3am Contact 04 4507766
---
Trattoria Toscana
Turquoise water, abras, a happy holiday vibe... who doesn't love the Madinat? And Trattoria Toscana's food is equally impressive – carpaccio, squid-ink risotto, seafood, truffle oil pizza, osso buco, pastas... But leave room for the chocolate lava cake, which is so sinfully good that sharing is simply not an option.
Location Madinat Jumeirah Timings Daily from 12pm to 11.45pm Contact 04 366 5866
---
40 Kong
Towering high above the city on the 40 floor of the H Hotel, 40 Kong is an outdoor cocktail lounge and restaurant with some views of the city. Simple furnishings in neutral hues keep the space feeling light and relaxed and allow the night sky to be the main event. A comprehensive international food menu ensures you won't go hungry, while the extensive beverage menu coupled with the live DJ are most certainly a catalyst for a late night.
Location H Hotel, World Trade Centre Timings Daily from 7pm to 3am Contact 04 3558896
---
Lakeview
You couldn't find a lovelier spot for an afternoon lunch with the family. Overlooking the Creek and a golf course, Lakeview offers a relaxed, leisurely dining experience. Sharing platters of nachos, various curry options, fish and chips, steaks and other standard (but tasty) pub grub hit the right spot with adults and kids alike. And there is a
 big grassy bank next to the terrace where kids can let off steam while the adults kick back and enjoy the view.
Location Dubai Creek Golf and Yacht Club Timings Daily from 6.30am to 2am Contact 04 2956000
---
China Grill terrace
Twinkly lights, minimalist decor, a backdrop of skyscrapers against the night sky; this one's a winner for a romantic dinner out. The menu is sharing-style Asian fusion, with beautifully presented maki rolls, vegetable pot-stickers and calamari on the small plates list, and phenomenal big-hitters including black cod on the mains. We loved the grilled garlic prawns – huge, meaty crustaceans surrounded by black linguine and a rich red curry sauce – and the flourless chocolate cake as a perfect ending.
Location Westin Dubai Mina Seyahi Beach Resort Timings Daily from 6.30pm to 2am Contact 04 5117333
---
Hakkasan
With its wooden terrace and lush greenery, this one feels like a mini-escape to (lively) tranquillity, away from the hustle and bustle of the city. We loved everything on the menu, but if you're after small bites, the dim sum platter is to die for. A wonderfully elegant, peaceful and upmarket option. Around Dh300 for a starter and a main.
Location Jumeirah Emirates Towers Timings Daily from 5pm to 2am, Friday brunch from 12pm onwards Contact 04 384 8484
---
Noir
The sleek woodwork, clever lighting and a roaring fire on the terrace are perfect for a Dubai winter evening. A simple but super-tasty tapas menu, featuring dishes like prawn-filled squid with tomato salsa, and a wide range of beverages crafted by mixologists made this a top night out for us. Around Dh160 for a starter and a main.
Location Kempinski Hotel, Mall of the Emirates Timings Tuesday to Saturday from 5pm to 1am Contact 04 4095222
---
Siddharta Lounge By Buddha Bar
The restaurant, lounge and bar has breath taking 360-degree views of Dubai Marina, The Palm Jumeirah and onwards to the Arabian Gulf. Their recently launched menu features Coastal Mediterranean cuisine for fresh and delicious bites, as well as Asian favourites, perfect for eating alone or sharing with friends. These days Siddharta is making Sunsets even more spectacular with a menu of sips starting at Dh30 and bites starting from Dh40 while you soak up the Balaeric beats of Glass Coffee. This special 'gone for sunset offer' is available every day from 4pm to 8pm.
Location Grosvenor House Timings Weekdays from 12pm to 6pm and weekends from 6.30pm to 12.30am Contact 04 3176000
---
Zengo
Zengo has one of the coolest terraces in town. The open plan space is filled with restaurant and lounge seating, offering views over the gardens and Arabian Gulf and is the perfect setting to enjoy the chilled beats of resident DJ. The Terrace Bar sets the theme, with a U-shaped bar including a unique flammable bar counter, which can be lit up to compliment the bartenders flaring with fire to create a real sense of theatre and atmosphere.
Location Le Royal Meridien Beach Resort & Spa Timings Weekdays from 7pm to 1am and Thursday and Friday until 2am Contact 04 3165550
---
Cielo Sky Lounge
Cielo Sky Lounge is packed with chilled out sunsets and late-night parties. The famous rooftop lounge opens just in time to soak up the breath taking sunset on one of the lounge's decks. Cielo Sky Lounge is the perfect place to spend the night; sit back and take in views of Dubai Creek. Enjoy on expertly made beverages and tuck into some delicious dishes.
Location Dubai Creek Golf & Yacht Club Timings Sunday to Thursday from 6pm to 2am and Friday to Saturday from 4pm to 2am Contact 04 161800
---
The Secret Terrace
Steigenberger Hotel Business Bay opens its doors to a new venue – The Secret Terrace, a cool new spot to unwind and hang out, with a chilled rooftop vibe. The charmingly decorated and comfortable outdoor space overlooks Dubai's skyline. The venue is home to some really down to earth food and beverages to match the cosy space.
Location Steigenberger Hotel, Business Bay Timings Open daily from 5pm Contact 04 3690000
---
Zheng He's
Zheng He's impresses with dining experience inspired by the historical Chinese explorer. Revisit classic, Chinese dishes contemporised with neo-oriental flair.
Location Mina A Asalam Timings Closed for lunch during summer except for Fridays and Saturdays from 12pm to 3pm, Dinner from 6.30pm to 11.30pm Contact 04 4323232
---
Tortuga
Tortuga is a vibrant and colourful Mexican restaurant in Dubai at Jumeirah Mina A'Salam, Madinat Jumeirah. The team invites guests at Tortuga with the warmth and flavours of Mexico.
Location Mina A Asalam Timings Closed for lunch during summer except for Fridays and Saturdays from 12pm to 3pm, Dinner from 6pm to 11.30pm Weekends from 12pm to 11.30pm Contact 04 4323232
---
Ambar
Ambar is a rooftop bar overlooking the gardens of the hotel and the Arabian Gulf and one of the best places to watch the sunset and enjoy a sundowner or shisha. The vibrant mood carries on to the later hours, making it one of Dubai's most exciting new nightspots. The food offering is modern Arabian with mezze dishes to share.
Location Jumeirah Al Naseem Timings Daily from 5pm to 2am Contact 04 4323232
---
D&A
Dhow and Anchor - known as D&A - is a modern award-winning British gastropub which offers a large terrace area with a fully-fitted beverage counter and unforgettable views of Burj Al Arab Jumeirah. The restaurant offers contemporary British cuisine and embodies stylish, yet casual dining. Open daily for lunch and dinner, and for breakfast on the weekends, D&A showcases a remarkable menu that captures the essence of a 'modern British' restaurant and bar.
Location Jumeirah Beach Hotel Timings Daily from 12pm to 2am Breakfast on Friday and Saturday from 9am to 12pm Contact 04 4323232
---
Nomad
Indulge in one of the four different dining experiences at Nomad restaurant, a hub of exciting new cuisine on the ground floor. This Puccini-designed restaurant blends expert culinary skills with atmospheric décor, creating a vibrant, one-of-a-kind eatery at Dubai Creekside. The versatile menu is designed to impress everyone, and the open plan kitchen offers an International dining experience.
Location Jumeirah Creekside Hotel Timings Daily from 6.30am onwards, Friday brunch from 12.30pm to 4pm Contact 04 2308458
---
Khaymat Al Bahar
Take in the views of Madinat Jumeirah while riding the Abra down to Khaimat Al Bahar. Discover Lebanon's rich culinary scene every day of the week for lunch and dinner. The promise is an authentic Lebanese experience with live entertainment in the evenings.
Location Al Qasr, Madinat Jumeirah Timings Daily from 6.30am onwards, Friday lunch from 1pm to 11.30pm Contact 04 4323232
---
Al Hambra

Al Hambra is a traditional Spanish eatery with an unerring knack of making you feel at home. Take your pick from a parade of colourful plates, each filled with fresh, seasonal and sometimes surprising ingredients, all served in a casual family-style setting.
Location Al Qasr, Madinat Jumeirah Timings Saturday to Thursday from 6.30pm to 11.30pm, Friday from 7pm to 11.30pm Contact 04 4323232
---
Want your rooftop bar listed here? Email Guides@gulfnews.com with your listing