Living in Dubai we are spoiled for choice when it comes to brand new hotels rising from the ground to add to the city's already impressive skyline and collective of hospitality stars. But not everywhere in the world is accustomed to the blink and you miss them overnight builds we are used to in this region.
In fact, there are a whole host of hotel brands which have actively sought out old decrepit buildings and structures to breathe luxury life into – often years after their original purpose became defunct. Think former jailhouses and banks, a converted oil rig and even a collection of sewage pipes masquerading as a quirky campsite of sorts. All had former lives far removed from Egyptian cotton and butler services.
Here are 14 of the most inventive reincarnations.
---
1. Seaventures Dive Resort, a former oil rig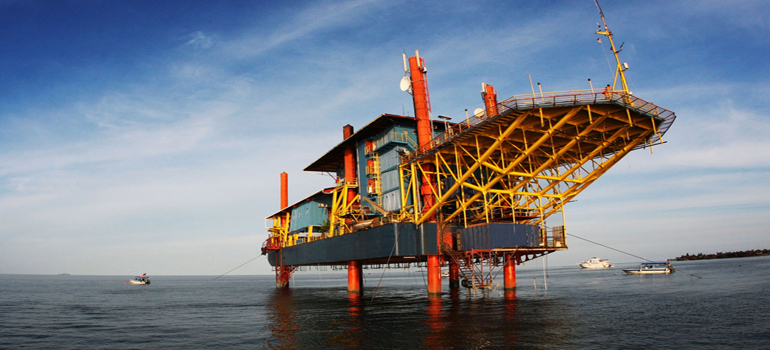 An oil rig doesn't sing 'relaxing and enjoyable leisure time' very loudly to us, not even a murmur in fact. But this onetime rig positioned above crystal-clear waters has (for want of a better phrase) a trump card we didn't see coming. The rig sits in the Celebes Sea – part of the Pacific Ocean - close to Sipadan Island in Malaysia and ringed by Borneo, Indonesia and the Philippines and directly above a coral reef teaming with rare tropical fish and sea turtles. It's a scuba divers paradise and packages offer accommodation and unlimited free dives immersed in the spectacular marine life below. Getting there takes a bit of leg work though. You will need to get a flight to Kuala Lumpur; another flight to Tawau; followed by an hour's drive and an overnight stay in the tiny port city of Semporna. And don't expect luxury when you do arrive. Rooms are clean, but basic and meals are very simple, albeit cooked with an abundance of local ingredients. Don't let the presence of armed guards on the rig put you off. They are there to protect against Filipino pirates and other potential sieges (there's a history of them in the area), but waking up hovering above a coral reef will be worth any risk factor. The location is a real draw here and a definite one to tick off the bucket list.
Contacts:seaventuresdive.com
---
2. Das Park Hotel in Austria, former sewage pipes
When we say this is a one-of-a-kind hotel that's not quite true. It's certainly unique, with accommodation in the form of converted sewage pipes but there are now two sites in Austria, Ottensheim and near Essen in Germany. That's right, sewage pipes - you can holiday like a Teenage Mutant Ninja Turtle thanks to an idea drummed up by Andreas Strauss in 2004. And his vision to turn sewage pipes that weigh 9.5 tonnes each and are two metres wide inside into standalone hotel rooms is proving surprisingly popular. Each section of these massive pipes is furnished with a double bed, a night light, power sockets and blankets. There's one circular skylight at the top and air holes, but no other windows and the rooms are secured by a digital keypad – you receive a personal access code upon booking – and they lock electronically. The colourful paintings on the inside walls by artist Thomas Latzel Ochoa brighten the tubes up no end.
Contact: dasparkhotel.net
---
3. Quinta Real Zacatecas in Mexico, former bullfighting ring
Who wouldn't want to stay in a hotel that was once a 17th century San Pedro bull fighting ring? The last bull-fight took place here in 1975, but the grounds are still magnificent and full of the magnificent historical charm that makes it like no other hotel you will stay in. The La Plaza restaurant, which serves traditional Mexican cuisine is located where the bull pen once was and like many of the bedrooms it looks out over the ornate circular arena. The interiors of the hotel are modern with all the mod cons you'd expect, as well as a health spa, tennis courts and a golf course. It's also close to the Zacatecas Quinta downtown area - A UNESCO World Heritage site and full of quaint little restaurants and historical sights.
Contact: quintareal.com
---
4. Jumbo Stay in Sweden, a former airplane
---
If you're not used to turning left when stepping onto a plane there's a good chance you probably aren't used to getting a good night's sleep on a long haul flight either. But what if bouncy double beds were on offer throughout the plane? This isn't a new Emirate initiative, but a night at Jumbo Stay hotel - an old Boeing 747 grounded in Arlanda Airport, Sweden that dates back to 1976 and has since been converted into novelty fuelled accommodation. The plane's last journey was from Dublin to Stockholm in 2002 and the best room is the luxury cockpit suite complete with a big comfy bed, private bathroom and panoramic views. The second best is the Black Box suite, but the double rooms and dorms are clean and surprisingly spacious. There's also a wing terrace with a bar and café – great for plane spotting! This is a convenient spot to stay on an overnight stop over or just for the novelty factor. One couple – Mr and Mrs Daniel – chose to get married on the wing and spent their wedding night in the cockpit-suite. It's still in an active airport so do remember your earplugs, but the quirkiness and comfort outweighs the noise of any overhead traffic.
Contact: jumbostay.com
A similar aviation themed set up can be found in Costa Verde in the Manuel Antonio National Park, Costa Rica where a 1965 vintage Boeing 727 air frame has been transformed into a stunning two-bedroom dark teak lined suite. The red plane once transported globetrotters on South Africa Air and Avianca Airlines and now juts out 50 feet into the jungle canopy with incredible views of the ocean and great facilities.
Contact: costaverde.com
---
5. Sarotti-Hofe Hotel in Berlin, a former chocolate factory
You don't need a golden ticket to stay at this former 19th century chocolate factory, which produced Germany's delicious Sarotti pralines since 1852. Chocolate making ceased and it was turned into a boutique hotel in 2005, with the latest renovation being in 2011. There's a total of 32 spacious rooms all individually designed and decorated with muted modern tones set against the colourful work of local artists and many over-looking a quaint courtyard. It is located in Berlin's lively Kreuzberg district buzzing with cool restaurants and hip bars, but don't discount the lavish in-house Sunday brunch. The centre of Berlin is 15 minutes away by public transport and the airport only 30 minutes by car.
Contact: hotel-sarottihoefe.de
---
6. Inkaterra La Casona in Peru, a former military academy

---
The history here is literally all around you. The intimate 16th century manor house that's the main shell of the hotel sits on what was formerly a training ground for Inka Soldiers at the elite Warakos Academy. There's the timeless courtyard with its stunning stone arches, traditional iron sculptures and intricate wood carvings that all help visitors delve deeper into layers of culture and history. More of a lodge than a hotel, it is perched high in the Andes and in 1825 the hotel provided a place for Inca warrior Simon Bolivar (Bolivia's namesake) to rest his head after his final victory in the Peruvian War of Independence. You can relax in front of a roaring fire, taste delicious Peruvian dishes or enjoy any number of spa treatments. Then choose from 11 suites decked out in antique furnishings, local art and rich Peruvian rugs. Also a great location for exploring local ruins in the nearby Sacred Valley and the burgeoning Cusco art scene.
Contact: www.inkaterra.com
---
7. Nobis Hotel in Stockholm, a former bank
The Nobis hotel's reputation for its stunning interiors and A-grade hospitality has been spreading for a while now, but back in 1973 the building got tongues wagging for a different reason. This originally stood as Stockholm's Kreditbanken founded in 1923 and is where the infamous Norrmalmstorg robbery took place in 1973, where robbers held hostages in the bank for six days. The ordeal coined the phrase 'Stockholm syndrome' a psychological phenomenon in which hostages grow to feel sorry for their captors and was Sweden's first crime to be captured on live TV. Today the hotel has had a modern makeover while keeping many older features intact like the stunning stain glass ceiling and a huge swirling staircase. It's in a great location in Stockholm's city centre and is home to two excellent Italian restaurant's; Caina, which only has 20 seats and serves traditional rustic Italian cuisine and the more casual Cainas Batficka, which is all about the simple home cooking of Italy.
Contact: www.nobishotel.se
---
8. Union Station in Nashville, a former train station
Located in Downtown Nashville, the city's former train station was built in 1900 during America's railroad era and now as a world class hotel still reflects the timeless grandeur of the Victorian times. The old terminal atrium with its original 65-foot barrel-vaulted stain glass ceiling, the main platform and rare wall sculptures all remain. It spent decades empty and in disrepair before being transformed into a 125 room luxury hotel by the Marriot International group. Now all rooms are a mix of old and new with LCD TV screens, Wi-Fi and luxurious marble bathrooms. The Prime 108 Lounge is perfect for a pre-dinner drinks ahead of trying the award-winning cuisine at the hotel's signature restaurant, Prime 108. Warning, there are plenty of stories the hotel being haunted by a ghostly heartbroken lady dressed in 1940's style clothes.
Contact: unionstationhotelnashville.com
---
9. Karostas Cietums in Latvia, a former prison
This former military prison – the prison no one has ever escaped from in fact – was built in 1905 and housed revolutionaries of from Stalin's time. Embracing its past wholeheartedly and shunning any expected standards of hotel hospitality Karostas wants guests to "live the part of a prisoner on a dismal night". The accommodation is therefore basic – a mattress or prison bunk with prison food and a good dose of abuse from prison guards apparently.
Contact: karostascietums.lv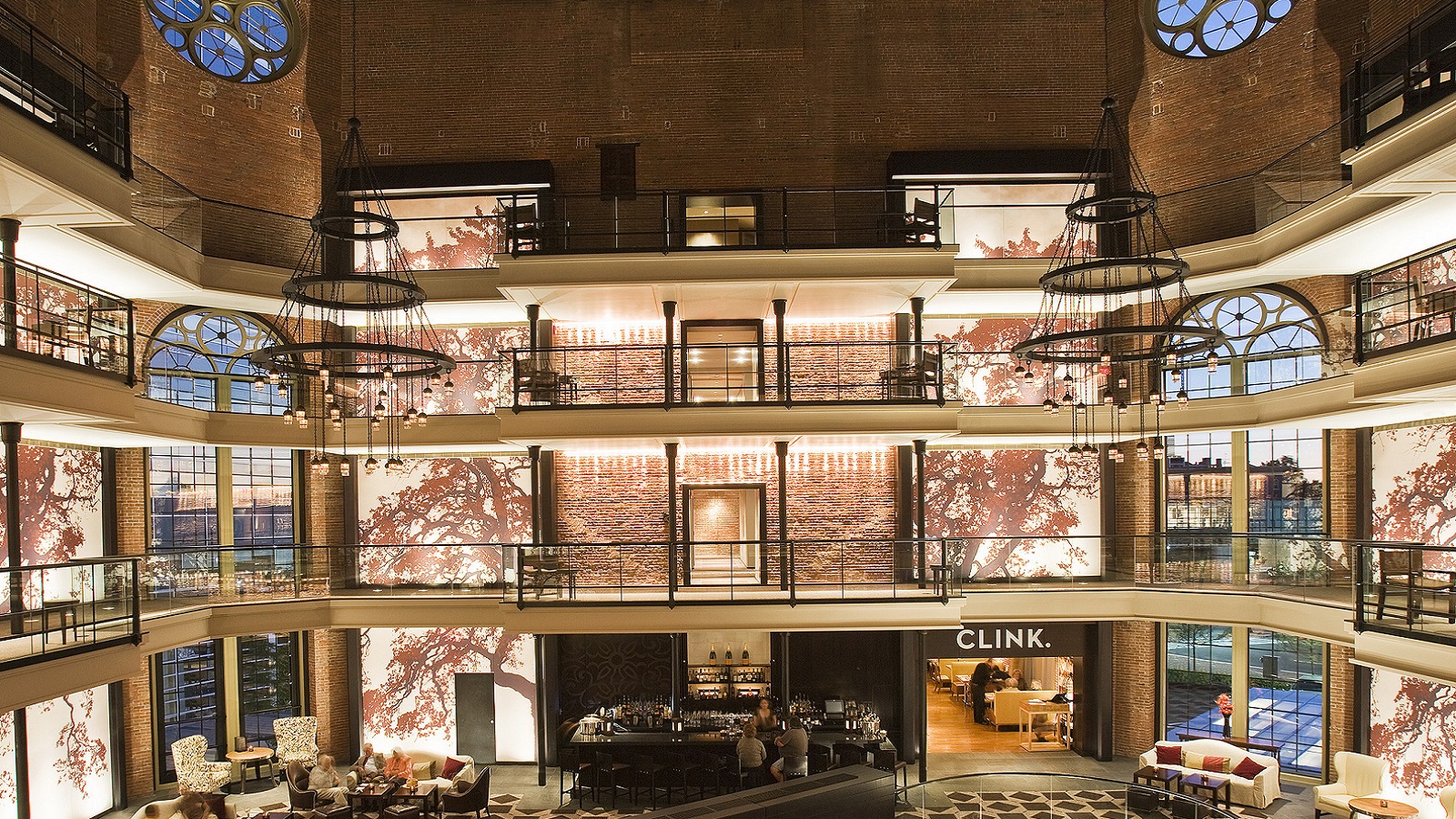 ---
Another famous prison turned (much more stylish) 4* hotel is The Liberty in Boston, USA, which was once known as the Charles Street Jail. Famous former inmates include Malcolm X, suffragists and World War II prisoners of war and Sacco and Vanzetti since it was built in 1851. The hotel is very chic and isn't afraid to play with its former identity as a jailhouse. There's the CLINK restaurant and Alibi bar, and jail-time features have been preserved like the catwalks, cell doors and three-storey arched windows, but you can expect high standards of hospitality throughout.
Contact: libertyhotel.com
10. The Faralda Crane Hotel in the Netherlands, former construction crane
Not one for those with vertigo, but quite an experience if you don't mind being elevated 150ft high in a restored crane come bedtime. There are three luxurious suites named "secret", "mystique" and "free spirit" all suspended high above the Wadden Sea and Amsterdam's port. There's also a bar – the panoramic lounge – found half way up with 360 views. The crane was previously known as crane 13 and stood unused at the back of Amsterdam Central Station as an industrial monument in the NDSM Wharf ever since the shipbuilding yard closed in 1984. It was restored and opened as a hotel in 2013. The website says "What happens in the Crane stays in the Crane" which we assume they mean in a fun Vegas way. They also claim plenty of famous guests, but no names are mentioned.
Contact: faralda.com
---
11. The Knickerbocker Hotel in New York, former FBI operations building and newspaper office
A building you may already recognise, it over looks Times Square and first opened its doors as a hotel in 1906 to go on to host the likes of F. Scott Fitzgerald and John D. Rockefeller. It has been a hotel previously, but went on to act as a front building for FBI double spy William Sebol in 1939 and later became the HQ for Newsweek magazine before going full circle and opening up as a hotel again. It was beautifully refurbished in the process and offers 330 elegant rooms with historical details like coffee tables inlaid with mother of pearl and other antique touches. Enjoy a drink at the rooftop St. Cloud bar and restaurant, one of three restaurants, overlooking the big apple. Keeping this hotel top secret might be difficult.
Contact: theknickerbocker.com
---
12. Null Stern Hotel in Switzerland, former nuclear bunker
Null Stern means 'no stars' and to that they say 'the only star is you'. Touted as the world's first 'zero star hotel', the Null Stern Hotel started out as an art installation in an underground Swiss nuclear bunker that was then converted into an eco-luxury hotel in 2010 by brothers Frank and Patrik Riklin. As accommodation goes they went for a basic minimalist design (the walls are two foot thick and blast proof so the shell remained), but they also offered a 24 hour butler on-site to bring you your morning coffee. We use the past tense for a reason. Unfortunately the hotel was only open for one year before being turned into a museum. It was opened to act as commentary on the super-trendy over-styled hotels opening all over the world, but ironically within three months of it opening they received a nomination for a World Hospitality Award. Could this reopen under popular demand?
Contact: null-stern-hotel.ch
---
13. The Clarion in Ireland, former mental institution
The Clarion originally opened in 1855 as a mental institute or the Saint Columba's Lunatic Asylum as it was known back then - famous for its modern and human approach to treating patients at the time. Declining building conditions and a drop in patients led to its closure in 1992. But it reopened in 2005 as a 167 room luxury hotel with swimming pool, huge gym and magnificent banquet hall. Guests have reported some strange goings on in different rooms - TV sets turning themselves on and off and strange bumps in the night and apparently one room remains locked due to reported paranormal activity. It sounds a bit like another hotel and former mental health hospital; the Comwell Kellers Park in Denmark, which famously scared the living daylights out of Justin Bieber when he stayed there for a night while on tour.
Contact: clarionhotelsireland.com
---
14. Spitbank Fort in Portsmouth, former naval defence
This strange looking island just off the coast of Portsmouth, England was originally a naval defence that was then given a much more glamorous second life as a boutique hotel. The private island - as it is known - offers a gorgeous spa, heated pool, eight gorgeous spacious rooms (with super king sized beds) and three bars. Travel by boat across the Solent to the island and enjoy amazing views of the south coast and cosy red brick interiors once inside as the sea crashes around you.
Contact: solentforts.com
---