Australian police is presently looking for the culprit causing a national scare involving sewing needles being hidden inside strawberries.
The Australian state Queensland has offered a AUS $100,000 (Dh262,485) reward for information after sewing needles were found in strawberries sold in supermarkets, in what the federal health minister described as a "vicious crime".
---
When did the first needle incident take place?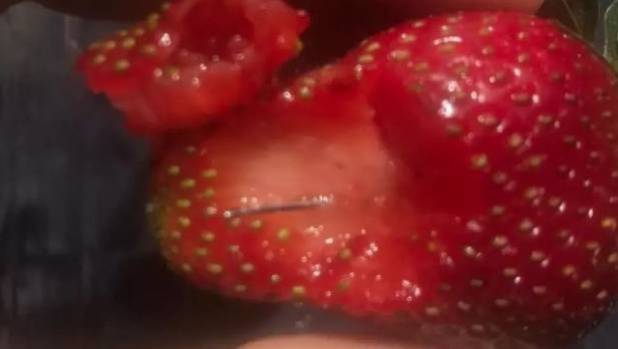 One week ago a man was taken to the hospital with stomach pains after eating strawberries bought at a supermarket in Queensland.
---
How has the contamination of strawberries spread?
As we know, the incident number one took place in Queensland a week ago. Since then, people have posted on social media photos of other strawberries with small metal pins stuck into them.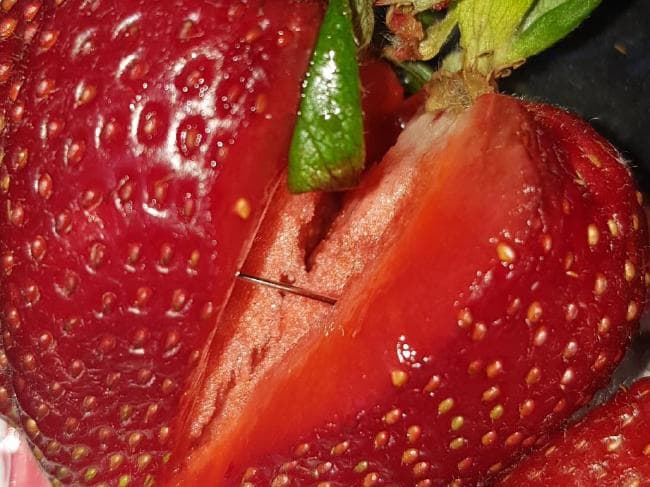 Police in New South Wales state have confirmed on Tuesday that needles had been found in more than 20 strawberry punnets, and there were reports that a banana and apple also had needles in them.
Throughout the following days, Police have received reports of more than 100 alleged incidents of pins and needles being found in fruit since the scare began in Queensland state earlier in the week.
As of today, the Australian strawberry scare has spread to New Zealand with a supermarket chain announcing Sunday that needles were found in a box of the fruit sourced from the neighbouring country. The statement said there have been no reports of any illness or injury in New Zealand.
---
Why is this even happening?
Australian police said on Tuesday they had yet to identify a suspect or a motive. However, Queensland Police told national broadcaster ABC the contamination of the strawberries - usually sold in small plastic boxes called punnets - was done "obviously to injure somebody".
---
Who could be responsible?
The Queensland Strawberry Growers Association said a disgruntled former worker might be responsible.
---
How much trouble are the contaminators in?
"Any incidents of self-contamination or copycat incidents impact on the industry and are very unhelpful for authorities," NSW Detective Superintendent Danny Doherty told reporters in Sydney.
"They will be treated as contamination, which is a serious offence and carries 10 years in jail." One person has told media he suffered minor injuries to his mouth after biting on a strawberry with a needle embedded in it.
Previous contamination cases in Australia have led to arrests, but not convictions.
---
What is happening to the strawberry industry?
While six brands have been directly affected and withdrawn from sale, consumers have begun to shun the fruit altogether.
Queensland state, the country's largest strawberry producing region, is particularly vulnerable to a sustained downturn in the market.
Several brands grown in Queensland have been withdrawn from supermarkets, and there have been multiple reports of other cases in the states of New South Wales and Victoria.
"Whoever is behind this is not just putting families at risk across Queensland and the rest of Australia - they are putting an entire industry at risk," Queensland Premier Annastacia Palaszczuk said Saturday. "I would urge anyone with information that may be relevant to this incident in any way to contact police as soon as possible," she added.
The Queensland strawberry industry is valued at about Aus$160 million (US$114 million). The ABC said Saturday wholesale prices had fallen by half to 50 Australian cents per punnet, below the cost of production.
---
Taking it a step further
Woolworths, one of the country's big two supermarkets, announced that it had "taken the precautionary step" of temporarily withdrawing needles from sale, as police struggled to find the original culprit amid a spate of copycat episodes.
---
Supporting Farmers
Australian politicians of all stripes have been quick to appear in front of a camera eating, cutting up and picking strawberries to show their support for farmers.
Bill Shorten appeared in parliament to ask Australians to buy "a punnet for yourself and a punnet for the nation".
The prime minister also shared a recipe for strawberry pavlova used by his wife, which he declared "the best pav I've ever had."
Greg Hunt, the Minister for Health in Australia, also supported local strawberry farmers.
#SupportOurStrawberry Farmers - the regulator says our strawberries are safe if we wash and chop them pic.twitter.com/aK7jG1DeUi

— Greg Hunt (@GregHuntMP) September 17, 2018
Many members of the public are also supporting strawberry farmers of Australia.
If you are in Australia please help the strawberry farmers. Make the family or yourself a Strawberry Shortcake - it's wonderful. Here's the recipe: https://t.co/6Xs1ohXspq pic.twitter.com/6c7ZtCEURn

— Ruth Hawkins (@asoh_ruth) September 21, 2018
---
Inputs from AFP