Afternoon high tea is a renowned British tradition and Dubai has adopted it wholeheartedly. Most of the best hotels in the emirate feature incredible afternoon tea experiences and here are our favourite ones.
---
1. At.mosphere at Burj Khalifa
Enjoy the flavours of English High Tea two ways on Level 122, in the At.mosphere Lounge. This English tea experience comes with a French flair. You have the option of trying 'La Gourmandise' if you want a classic collection of mini sandwiches, patisserie, scones and fresh berries, served with your preferred hot or refreshing beverage from a menu of global teas and coffees. Or, upgrade the experience with the 'Luxurious Menu', which includes signature delicacies, a main course selection and a chilled flute of something sparkling.
Location Burj Khalifa, Downtown Dubai Cost Dh320 per person for La Gourmandise (for non-window tables only), Dh420 per person including sparkling beverages (non-window table), Dh490 per person including sparkling beverages (window table) Timings Daily from 12pm to 4.30pm (last booking at 2:30pm) Contact 04 8883828
---
2. Skyview Bar at Burj Al Arab
Located 200 metres above sea level on the 27th floor of the Burj Al Arab, this is an afternoon tea to try when in Dubai. From modern day classics to innovative beverages, the master mixologists and tea makers draw influence from the most unexpected places. The afternoon tea includes delicious savoury and sweet options. If you want to splurge on a window table, you'll enjoy some pretty amazing views of the Dubai skyline, or of the Arabian Gulf.
Location Burj Al Arab Jumeirah Cost Dh620 per person (an additional Dh100 applies per table for window seating) Timings Saturday to Thursday, served at 1pm and 1.15pm and again at 4pm and 4.15pm Contact 04 3017600
---
3. Al Fayrooz Lounge in Al Qasr
Al Fayrooz Lounge hosts an Arabesque-style afternoon tea at the hotel lobby. With this afternoon tea experience, you can enjoy a delicious selection of sweet treats including strawberry kunafa millie-feuille, apricot orange blossom souffle, and much more. This venue has elegant surroundings and its views of the winding waterways, the Arabian Gulf, and of course the Burj Al Arab. They even have a cooler version of their tea, the 'Iced Afternoon Tea'. This version includes a chocolate fountain with fresh fruits and cake pops.
Location Al Qasr, Madinat Jumeirah Cost Dh225 per person Timings Daily from 2pm to 6pm Contact 04 4323232
---
4. Fortnum & Mason
Fortnum & Mason is a British company, so who better than to lead the cause of tea in Dubai? Located on Mohammad Bin Rashid Boulevard and overlooking Dubai Fountain, you'll find this place charming and comfortable. With murals on the walls and eloquent displays peppering the shelves, Fortnum & Mason is ideal for afternoon tea any day of the week.
Location Mohammed Bin Rashid Boulevard, Downtown Dubai Cost Dhs295 per person Timings Daily from 12pm to 11.30pm Contact 04 388 2627
---
5. The Samovar Lounge at the One & Only Royal Mirage
For an elegant afternoon tea in Dubai, why not head over to the One & Only Royal Mirage. An extensive selection of teas are on the menu and they're all served with a quintessentially English selection of sandwiches and scones, complete with Devonshire cream and strawberry jam.
Location One & Only Royal Mirage, Al Sufouh Road, Dubai Cost Dh110 per person Timings Daily from 3pm to 6pm Phone 04 3999999
---
6. Peacock Alley
Inspired by the Waldorf Astoria's long-standing high tea tradition, theirs is a nostalgic throwback to the original Peacock Alley, a much-loved institution at the Waldorf Astoria in New York City. Their high tea is complimented with a series of savoury and sweet lavish canapes, a bespoke tea trolley and special infused cocktail creations.
Location Peacock Alley, Waldorf Astoria Cost Dh155 per person inclusive of tea and coffee Timings Daily from 2.30pm to 6pm Contact 04 8182222
---
7. The Lounge at Address Boulevard
Start your experience off with charming welcome beverages and mini fruit tarts, before you savour more delightful dishes at Address Boulevard's afternoon tea. The afternoon tea is presented in a beautiful chest of drawers which is filled with four layers of decadent goodness. The delicious offering includes edible plastic wrapped sweets, chocolate caviar, exotic sandwiches like salmon and beef bresaola's and for burrata lovers they can tuck into the mini version of this cream cheese. As with any traditional tea, freshly baked scones and luscious jams mark the focal point of this high tea experience.
Location The Lounge, Address Boulevard Cost Dh140 per person, Dh195 including glass of bubbly Timings Daily from 2.30pm to 6.30pm Contact 04 5618555
---
8. Ossiano at Atlantis the Palm
If you're looking for a very different afternoon tea experience, then you'll love this one with proper, up close views of the aquarium. You can sip on your tea by the Ambassador Lagoon, which is home to more than 65,000 marine species. The fare is seafood themed as well, with options such as smoked salmon and cream cheese, as well as king crab and avocado sandwiches and lobster eclairs. Finish the meal with some amazing desserts.
Location Atlantis, The Palm Jumeriah Cost Dh140 including two hot beverages, Dh285 including a glass of bubbly Timings Every Friday and Saturday from 2pm to 5.30pm Contact 04 4262626
---
9. La Patisserie at Sofitel Dubai Downtown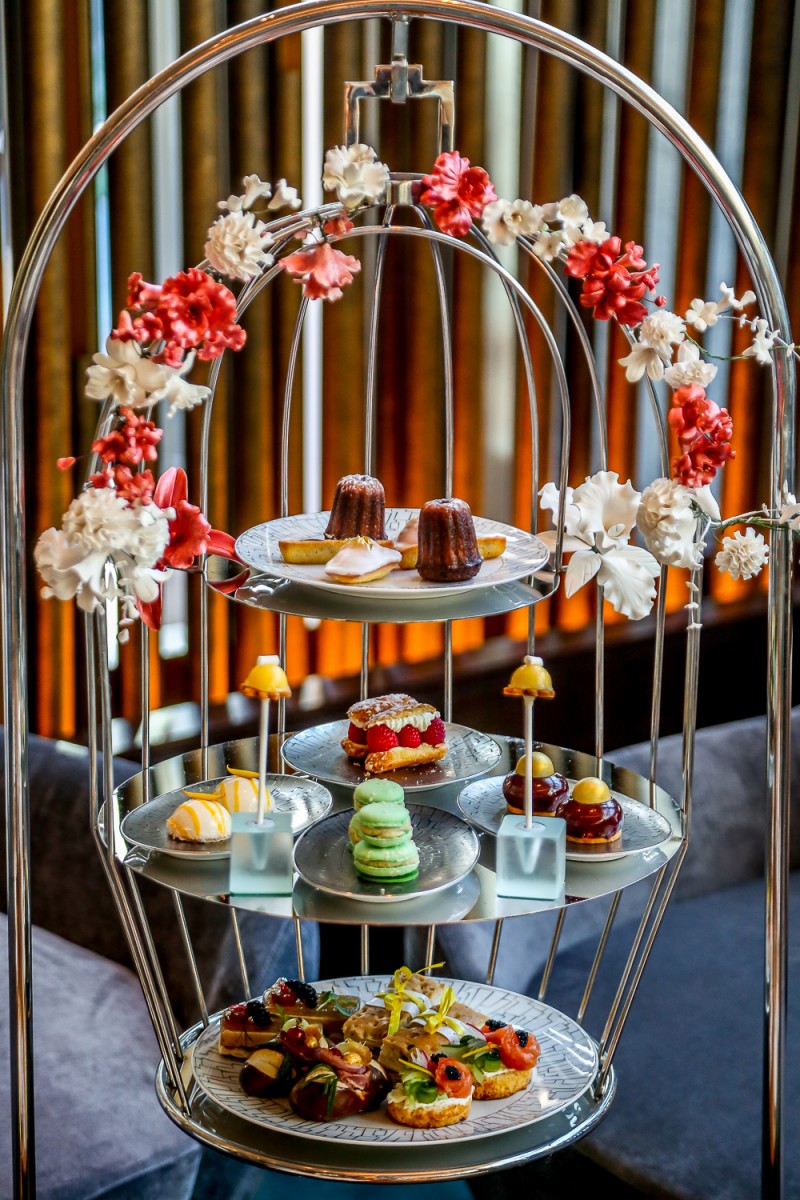 Sofitel Dubai Downtown has its brand new tea-inspired afternoon tea at La Patisserie. We tried this lovely experience and enjoyed a selection of tea-flavoured sandwiches and sweets, including green tea macaroons, scones and Earl Grey tea. Perfect for someone who is as obsessed with tea-flavoured food. The bites are served in beautiful birdcage-like presentation stands and are lovely tasty morsels. The serving staff knew exactly what went into each item and knew how to pair the course with the types of tea.
We started the experience with a glass of date-infused bubbles to cleanse the palate and strawberries with whipped cream. We were then presented with a selection of sandwiches including smoked salmon with matcha green tea jam; tomato, mozzarella and touareg tea jam; red fruit tea jelly and foie gras and lapsang souchon tea jam with smoked duck. The afternoon tea ended with a selection of delicious pastries. This afternoon tea is great value for money!
Location Lobby Lounge of Sofitel Dubai Downtown Cost Dh199 for two people Timings Daily from 10am to 8pm Contact 04 5036111
---
The Tea Lounge at Dukes
The Tea Lounge serves traditional afternoon tea, which comes with British finger sandwiches, assorted pastries and freshly baked scones with preserves. Tea is courtesy of international designer tea brand Tchaba, with a gourmet selection of loose leaf teas. You can also add a little sparkle to your experience and enjoy bubbles and other beverages during the tea. The Tea Lounge is a very stylish and modern venue with bright pinks, oranges and greens, sculptural gold metalwork chairs and light, bright interiors. There's even terrace seating for cooler temperatures, which looks out over the Jumeirah Beach Residence skyline.
Location Dukes, Palm Jumeirah Cost Dh170 for the traditional Afternoon Tea Service, Dh320 including a glass of bubbly Timings Daily from 12pm to 6pm Contact 04 4551111
---