History of Gulf News
1978 saw the launch of two English dailies in the Gulf. While its competitor carved a special niche for itself in the market and built up a loyal readership, Gulf News remained erratic, barely surviving with a circulation of 3000. Problems were compounded with ownership changes and with no investors willing to take a risk, it was on the verge of closure.
Then, in one dramatic move the fate of Gulf News changed. In 1984, three visionary, leading businessmen of Dubai bought it over. And Gulf News was relaunched on December 10, 1985 by Al Nisr Publishing LLC.
Within a few months Gulf News had new premises, new printing technology, revitalised editorial, marketing, circulation teams and production professionals to harness the new technology. A multi-pronged marketing strategy hit the target, advertising revenues soared by over 40% in the first three months, and subscriptions took a gigantic leap.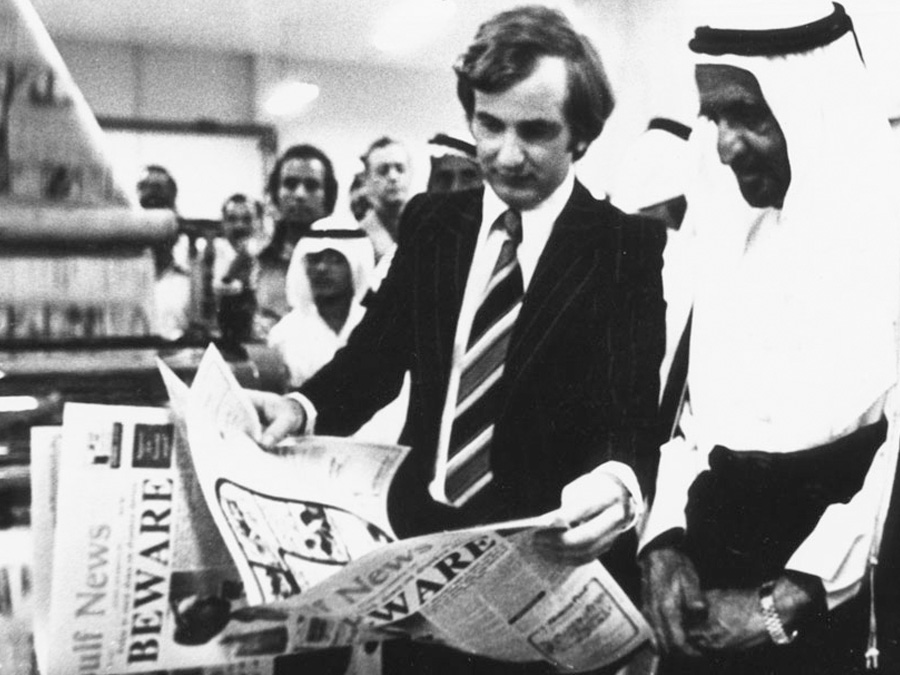 ---
Key Dates
Major milestones for GN Media from 1978 all the way through to 2014
1978 Sep-30 Gulf News launches in tabloid format, based in the Abulhoul printing press office on Airport Road.
1979 Sep-24 Junior News launches as a separate section aimed at children
1980 Jan-01 Format changes to broadsheet, under new ownership of Abdul Wahab Galadari.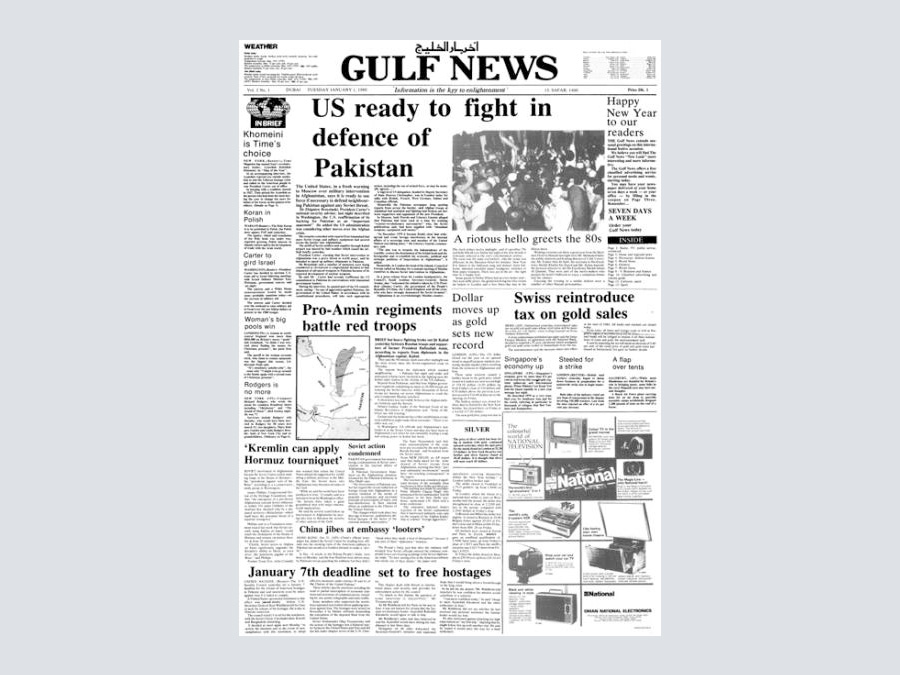 1980 Jan-04 Al Ju'ma launches as a weekend magazine published with the newspaper
1984 Nov Gulf News acquired from receivers of Abdul Wahab Galadari by Al Nisr Publishing LLC, a new company with three shareholders: Obaid Humaid Al Tayer, Abdullah Hassan Al Rostamani, and Juma Al Majid
1985 Dec-10 Gulf News relaunches with new look and vision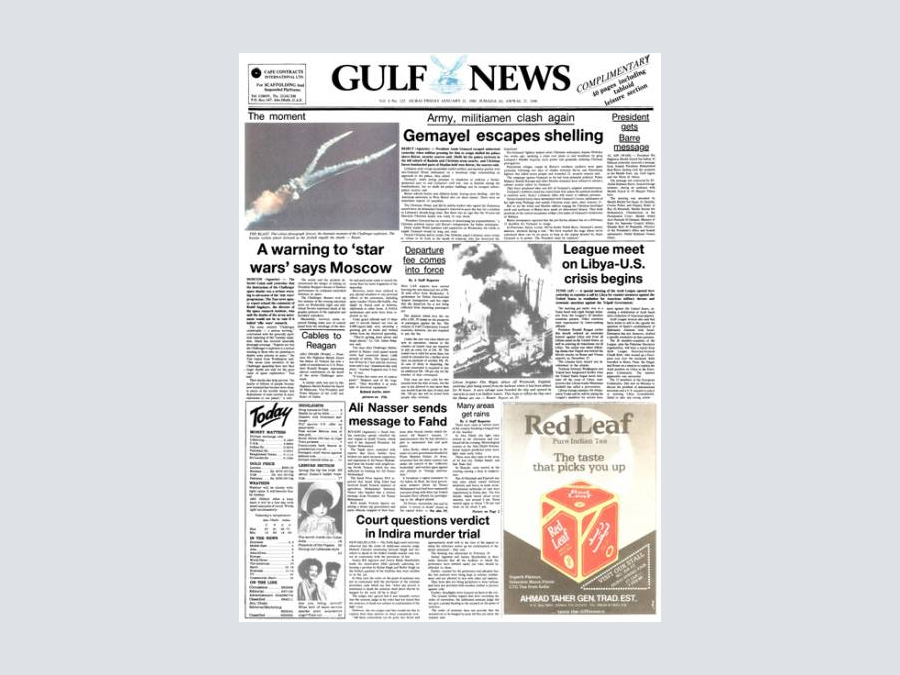 1985 Dec Gulf News moves to new premises on Abu Dhabi Road next to Safa Park
1986 Feb-08 After free trial of three months, Gulf News is priced at Dh 1 per copy
1986 Mar-28 First Gulf News Fun Drive, which continues to present day, taking large numbers of amateur drivers through the desert
1986 Oct-02 Junior News relaunches targeted at younger children
1986 Nov-07 Gulf Weekly replaces Al Ju'ma as a more sophisticated weekend read
1987 Sep-27 Gulf News starts distribution in GCC countries with Bahrain
1989 March Gulf News sponsors the first Dubai Desert Classic golf tournment, of which it is still a partner
1989 Sept Gulf News launches its annual Gulf Business Awards for which the Gala Dinner was a social high point for Dubai
1990 Jul-01 Gulf News wins the Asia-Pacific Award for Best Newspaper Production for 1989 (and again in 1992)
1990 Oct-01 Gulf News introduces separate Business & Sport sections
1995 Jan-01 Cover price of Gulf News increases to Dhs 2
1995 Nov-30 Gulf News leads the way on reducing broadsheet page size by going to a width of 38 centimetres.
1996 Mar-27 Gulf News sponsors Golden Shaheen horse race in the first Dubai World Cup meeting, which it has done every year since.
1996 Sep-01 First online edition of Gulf News launches as gulf-news.com.

1997 May-26 Al Nisr Publishing becomes a Limited Liability Company (LLC) with a share capital of Dh15 million.
1997 Jun-17 Time capsule created by students of Dubai Men's College is buried at Gulf News, to be dug up 100 years later in 2097.
1999 May-05 Gulf News introduces 4 pages of worldwide and regional reports on stock exchanges, a first in the region.
2000 Jan-01 Separate Property section of Classifieds launches.
2000 Mar-03 Cover price of Gulf News increases to Dhs 3 for Friday edition only.
2000 Apr-05 Gulf News moves to new offices (still there today in 2014) that included state-of-the-art technology throughout, with fibre-optic cabling and the most advanced printing press in the Middle East.
2001 Apr-01 Entertainment Plus (e+ ) launches, focused on local and international TV and cinema news.
2002 Jun-01 First issue of Aquarius published by Al Nisr Media FZ LLC, a woman's magazine focused beauty and health.
2003 Jun-21 Gulf News implements a complete re-design with support from leading global newspaper design house, Garcia Media.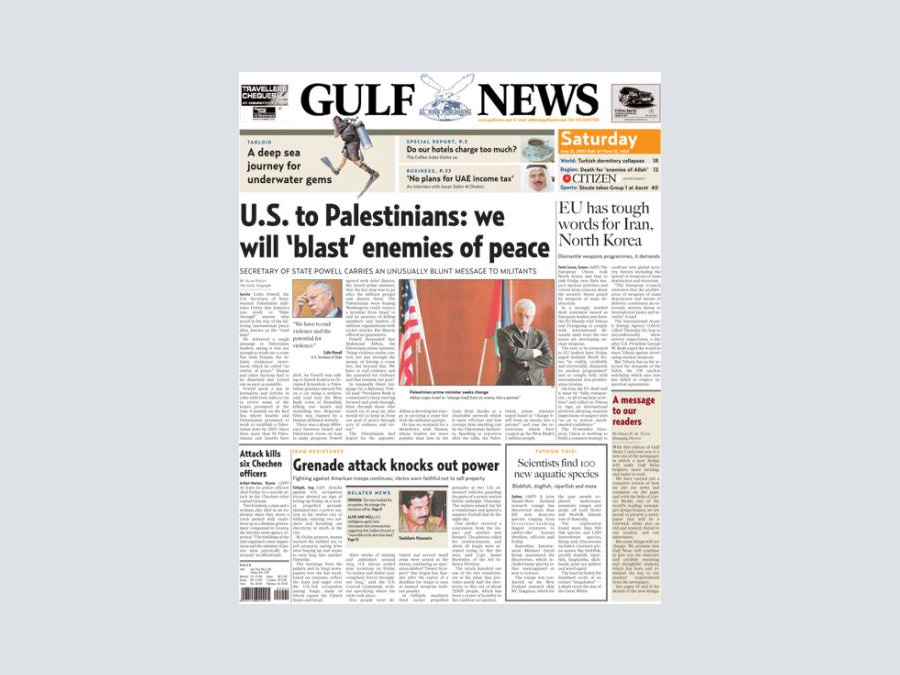 2003 Oct-01 InsideOut, a monthly interior design magazine, launched by Al Nisr Media FZ LLC.
2004 Sep-14 First issue of 'Weekend Review', a thoughtful weekly newspaper section including social issues, art, books and science.
2005 Mar-15 Wheels magazine launches, covering automotive news, car reviews and motoring features.
2005 Nov-10 Al Nisr Group signs MOU with Emirates Media Inc acquiring broadcast licences for Radio 1 & 2.
2006 Jun-16 Gulf News launches a dedicated Readers Desk, focusing on bringing the readers voice into the newspaper and online site.
2006 Aug-01 Gulf News launches GN Broadcasting, GNB, with English FM Radio 1 & Radio 2.
2006 Nov-17 FM magazine (Friday for Men) launches as quarterly magazine.
2007 Jan-09 GNB moves into new state of the art radio production studios.
2007 Mar-15 XPRESS launches as a weekly newspaper focused on community news in Dubai and Abu Dhabi.
2008 Sep-30 Emirates Post issues limited edition of stamps commemmorating Gulf News' 30th anniversary.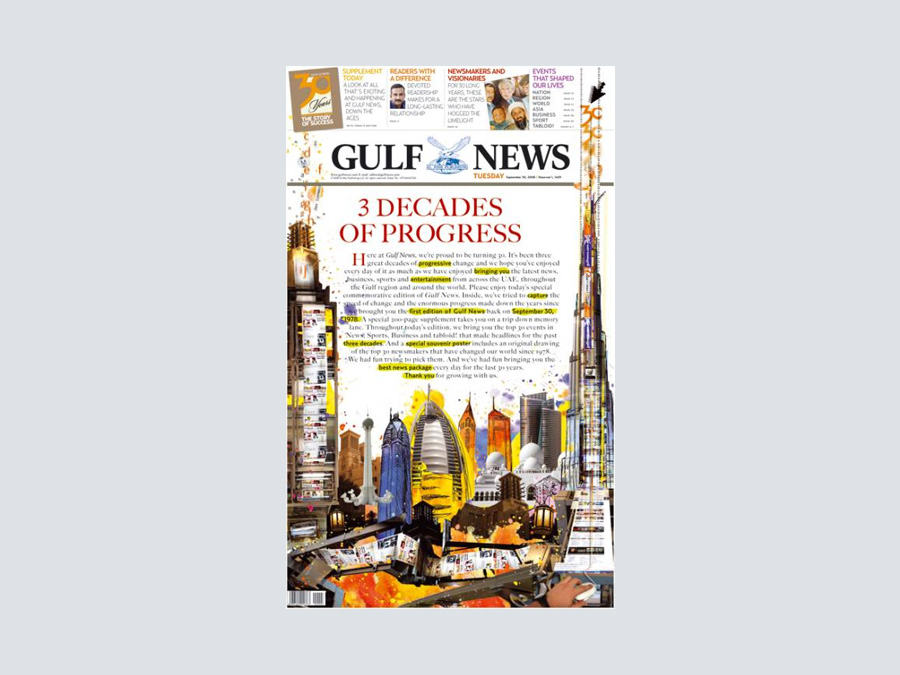 2009 Feb-11 Gulf News starts to tweet. Twitter account launched.
2010 Oct-01 In midst of property recession, two magazines Freehold Monthly & Property Monthly merged & launched as 'Property'.
2011 Mar-20 Gulf News launches its first Ipad Edition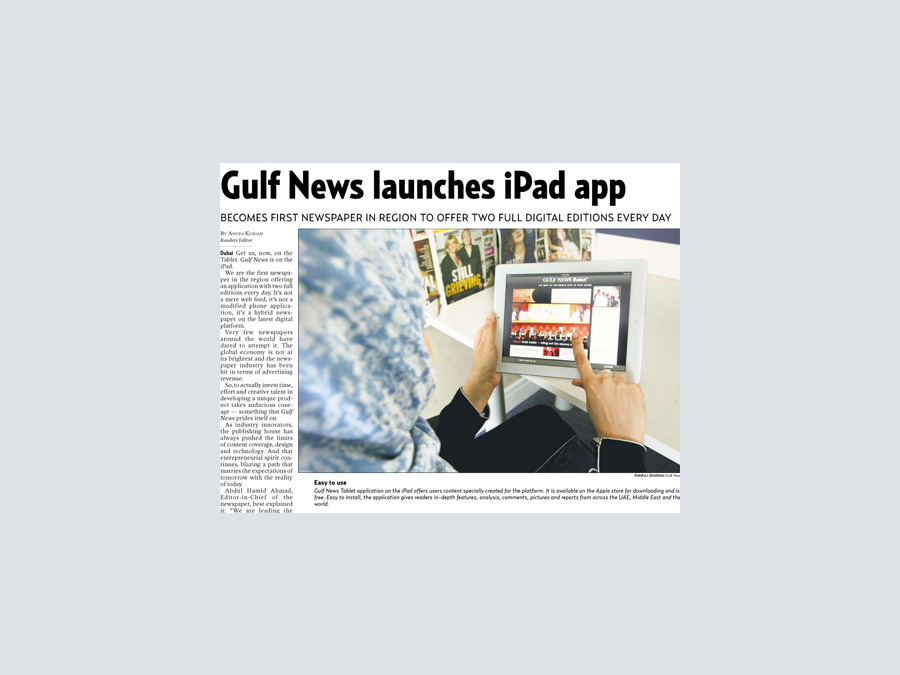 2011 Mar-24 Gulf News launches its official Facebook page
2011 Oct-01 Alpha launches, monthly man's magazine covering fitness, technology, fashion and sport
2011 Oct-07 Scene replaces e+ with greater emphasis on celebrity news
2011 Nov-28 Gulf News receives an award from Forbes as the top English language website in UAE and ranks 12th among Arab and English sites in the region
2012 Mar-01 GNB launches Hayat, an Arabic FM station.
2012 Apr Gulf News designer wins Society for News Design award to create the book cover of the 33rd edition of Society for News Design.
2012 Jun-01 Gulf News becomes the first in the region to adopt the Berliner newspaper format, and at the same time implements a complete redesign.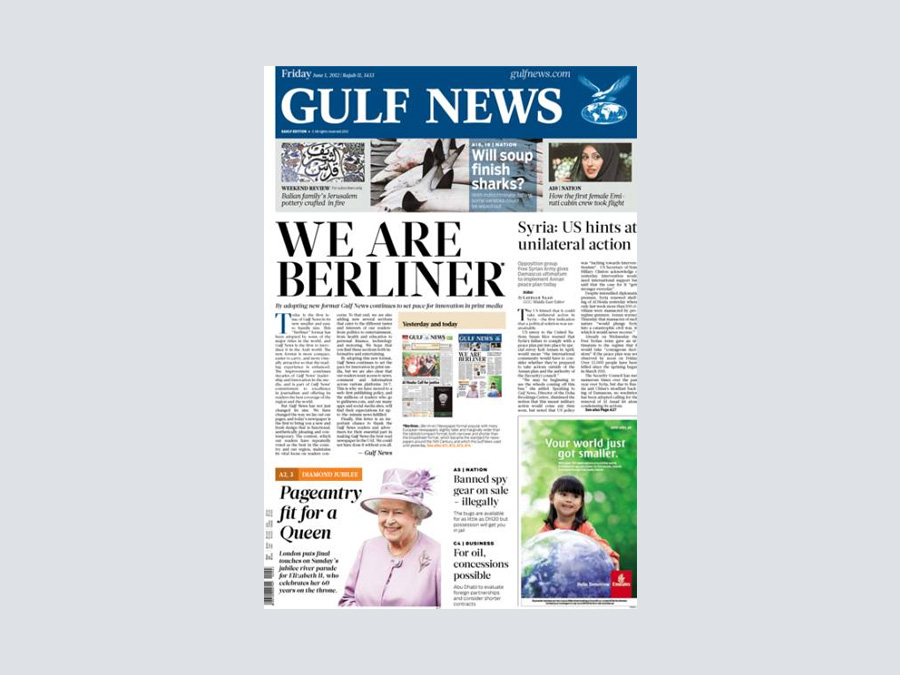 2012 Jul-03 GNB adds Josh, a Hindi FM station
2012 Sep-16 Gulf News launches its midday video bulletin on gulfnews.com, bringing the latest breaking news, business, sports and entertainment stories.
2012 Oct-02 Gulf News launches GNWheels.com, a new smartphone-friendly version of the popular GNwheels website, which is part of the GNAds4U service
2012 Oct-15 SMS service of Gulf News is launched as part of the 34th Gulf News anniversary celebration.
2012 Dec Forbes Middle East award for Gulf News - says it is the top English newspaper online in the Arab World. Gulf News jumps from 12th to 3rd for all media.
2013 Jan-07 GulfNews.com launches its revamped mobile site - m.gulfnews.com
2013 Feb The Society for News Design (SND) announces Gulf News is one of its top 10 global winners with 21 design awards including one Gold medal, out of the 3 given for the James Bond Special in tabloid! The gold medal for Gulf News is the only one from the Middle East region.
2013 Mar-14 XPRESS Abu Dhabi launches in addition to the Dubai edition, giving a better community focus
2013 Mar-20 Property Weekly, a weekly magazine covering the reviving UAE property market, re-launches.
2013 Jun-01 The cover price of Gulf News increases to Dh 5 from Dh 3
2013 Jun-Jul Gulf News Sport adds 70,000 twitter followers in one month thanks to its strong FIFA World Cup coverage.
2013 Aug Gulf News brand is rated third in the region in the 2013 Global Effie Effectiveness Index, along with other brands like McDonald's, Dove and STC
2013 Sep-07 Gulf News launches its Instagram account
2013 Oct gulfnews.com updates its apps across iOs, Android, Windows and Blackberry, for Tablet and Mobile devices.
2013 Dec-13 Tabloid! goes 7 days a week and starts publishing on Friday
2014 Mar-01 WatchTime magazine launches (GN Media's first licensed magazine)
2014 May-17 Wheels Arabic launches (GN Media's first consumer magazine entirely in Arabic)
2014 Aug Facebook users go past 500,000, Twitter followers on the main Gulf News account edge past 130,000