Dubai is one of the few places around the world where women can enjoy nights out without spending a dime. Ladies night is a ritual and an institution for expat women all over the city.
Not only are we giving you a list of top places to enjoy an awesome night out, but every venue on this list offers free beverages and amazing discounts on food. Here is your guide on how to party for free every single day of the week.
Sunday
---
Bazxar
Time to start the week with a bang! Ladies can head over to Bazxar every Sunday and enjoy three complementary beverages as well as 40 per cent off the entire bill for food for a group of ladies, while a mixed group will be getting 25 per cent off the total bill. There's also going to be live music from the resident DJ, making it the hottest party in DIFC that day.
Location DIFC Offer 3 free beverages and 40 per cent off food Timings Every Sunday from 8pm onwards Contact 04 3551111
---
Monday
Nobu Dubai
Taking place every Monday, the Japanese Peruvian hotspot will be serving three complimentary beverages and discounted tapas throughout the evening. Nobu Noir will be the only place to be seen every Monday evening. The Japanese Peruvian hotspot will be serving complimentary cocktails and a selection tapas for Dh40 throughout the evening in the bar. This tails and tapas menu will be offering dishes such as Spicy Miso Tuna Tacos, Black Cod Butter Lettuce and Yellowtail Sashimi.
Location Atlantis, Palm Jumeirah Offer 3 complementary beverages and Dh40 per tapa Timings Every Monday from 8.30pm until 11pm Contact 044262626
Mint Leaf of London
---
This gorgeous restaurant and lounge is one of the most beautifully decorated spots in town. It has views that are to die for and a really unique mixology offering. Ladies will be given three free beverages and all guests, even the men, can enjoy 30 per cent off the lounge menu.
Location 15th Floor, South Tower, Emirates Financial Towers, DIFC Cost Free Timing Monday from 7.00pm to 10pm Contact 04 7060900
---
ToroToro
A ladies night that's offering complementary Latin bites along with three free beverages. It takes place every Monday on the lounge level of the famous Dubai Marina restaurant and lounge. Make sure you put your dancing shoes on, since their DJ will be spinning sounds of Cuban salsa, Cha Cha Cha and Latin beats.
Location ToroToro, Grosvenor House Dubai Offer 3 free beverages and complementary canapes Timings Every Monday from 7pm to 12am Contact 04 3176000
---
Cafe Belge
From 8pm onwards ladies can enjoy free flowing selected beverages at the elegant Cafe Belge bar, along with bites at 50 per cent off! There will also be beats by DJ Rick to give you an 80's vibe.
Location Ritz Carlton DIFC Offer unlimited free flowing beverages and 50 per cent off bar bites Timings Every Tuesday from 8pm to 12am Contact 04 3722323
Level 43 Sky Lounge
The open-air bar and lounge concept on the has re-launched its Ladies Night in collaboration with Beauty Concept Lounge. Ladies On Top offers women two complimentary beverages and a session of pampering. Ladies will also be treated to manicures and makeovers by a glam squad courtesy of Beauty Concept Lounge, who will be at hand on the first Tuesday of every month.
Location Four Points by Sheraton Sheikh Zayed Road,43rd floor Offer Two free beverages Timings Every Tuesday from 8pm to 11pm Contact 056 4142213
Aji
Women of Dubai just got another reason for a weekday dinner date with the launch of Nikkeilicious at Ají. Serving up a 50 per cent discount on dinner bookings and three free beverages every Monday from 8pm until close. Situated a few steps from the sand, Aji's shoreline setting shifts effortlessly from daytime beach casual to high-heeled evening decadence.
Location Club Vista Mare on Palm Jumeirah Offer 50 per cent off food and 3 free beverages Timings every Monday from 8pm to 12am Contact 04 5520244
---
Tuesday
Jean Georges
Their recently launched Pin Up Tuesday's ladies night offers ladies 4 free beverages and 50 per cent off food. We love Jean Georges for their fantastic food and the luxe vibrant atmosphere. Try this new ladies night tonigh!
Location Four Seasons Jumeirah Offer 4 free beverages and 50 per cent off dining Timings Every Tuesday from 7pm onwards Contact 04 3436118
China Grill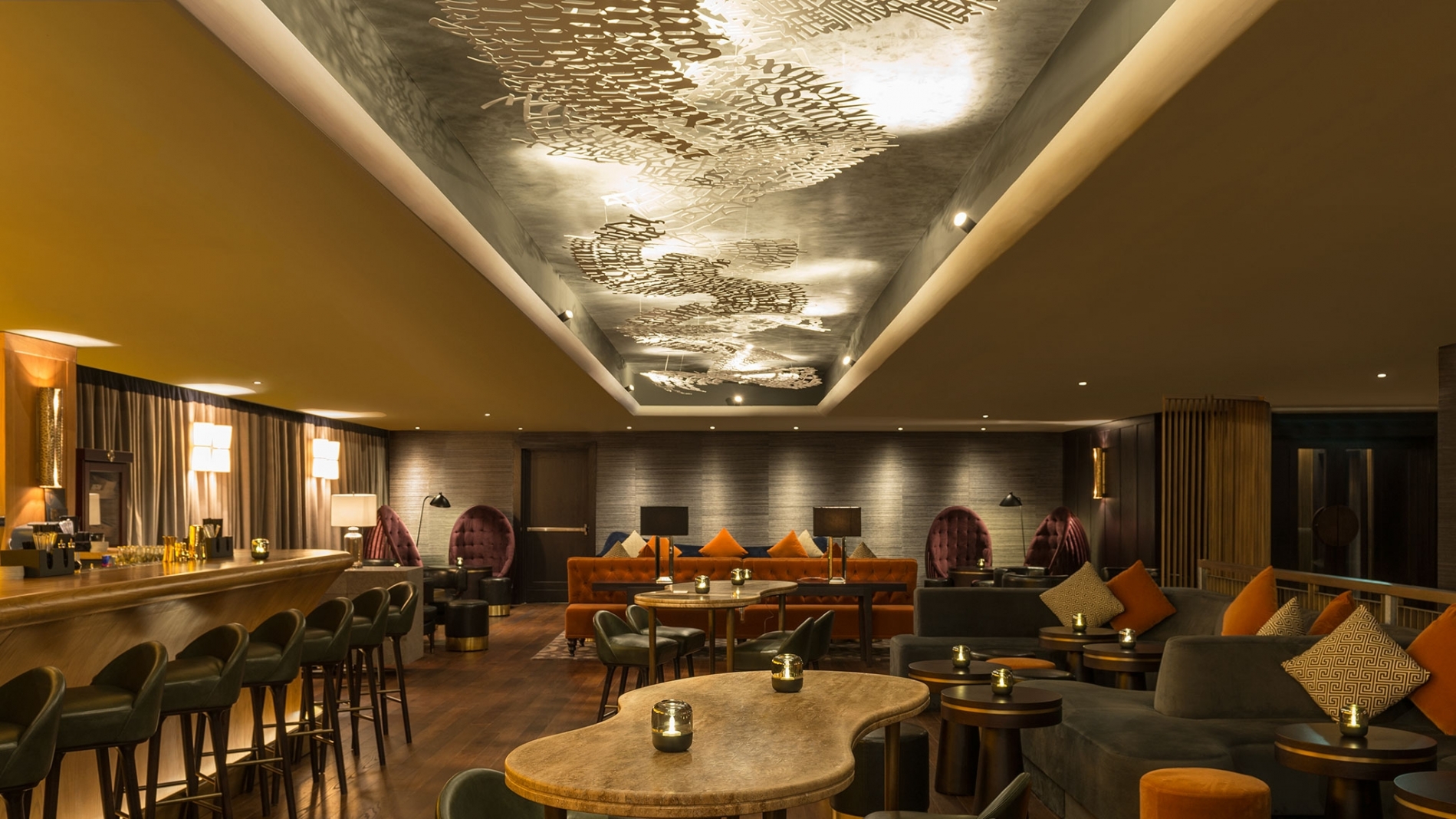 Just ask anyone where the best Tuesday ladies night is and they will tell you to float on over to China Grill for Madame Butterfly night. With unlimited white, red and pink grape (we really mean unlimited) and 50 per cent of the entire dining menu if you are a table of ladies. It is quite the hot spot to hit up on Tuesday nights.
Location The Westin Dubai Mina Seyahi Beach Resort & Marina Cost Free Timing Tuesday from 6.00pm to 12am Contact 04 5117333
---
Party: Mahiki Mile High Club
Every Tuesday, Mahiki hosts a great ladies night with a selection of new, themed complimentary beverages and free-flowing grape. The first 50 women will be gifted with a goodie bag filled by the clubs' fashion and beauty friends.
Location Mahiki, Jumeirah Beach Hotel Cost free Timings Every Tuesday Complimentary sushi from 7pm to 10pm, Free flowing beverages for ladies from 7pm to 1am Contact 04 3807731
---
Sass Café
Sass' Café is offering free beverages and a three course set menu. Tuesday nights won't be the same as Sass' Café's most popular resident DJs recreate the classic Monte Carlo glamour. 'She is' ladies' night offers a glimpse into French-Mediterranean cuisine; with a delicious appetizer, signature main and a decadent dessert. Eventually, the tables are swept away and the dance floor opens up for guests to party the rest of the night away.
Location DIFC, Al Fattan Currency House Cost Dh250 per person Timings Every Tuesday from 8pm till 11.30pm Contact 04 3527722
---
Warehouse
Tuesday nights have long been the original ladies nights, so we thought why not slot in another free activity for you to enjoy. Get all dolled up and take advantage of the free flow of sparkling grape and a 50 per cent discount on your bill if you dine on a table of just ladies at this Dubai institution.
Location Le Meridien Dubai Hotel & Conference Centre, Airport road Cost Free Timing Tuesday from 7.00pm to 11pm Contact 04 7022455
---
Nola
This Louisiana inspired restaurant and bar offers the ladies 4 free beverages and 50 per cent off the entire bill. They also claim to offer free coffee and beignets all day long.
Location Armada BlueBay Hotel, Cluster P, JLT, Dubai Offer 50 per cent off the bill, 4 free beverages Timings from 12pm until 3am Contact 052 7775191
---
Wednesday
Ramusake
---
Located at the end of the walk in JBR, this favourite Japanese fine dining restaurant has a great ladies night, with women enjoying free beverages throughout the night, as well as a great deal on sharing platters. DJ Adam Graca will be entertaining guests with R'n'B and Hip Hop to really get you in the party mood.
Location Double Tree by Hilton JBR Cost Free Timing Wednesday from 8.00pm to 12am Contact 04 5595300
---
Muchachas
The location may be a bit funny, but Muchachas is great fun, especially on Wednesdays. Ladies will enjoy three free beverages, including the fruity Mexican ones, and complimentary canapes from the afternoon onwards! That's not all. There will be a photo booth as well as props and of course Latin music too keep you on your feet dancing all night long.
Location Al Safa, Holiday Inn Express Offer 3 free beverages and complementary canapes Timings Every Wednesday from 5pm onwards Contact 04 3275878
---
Social by Heinz Beck
If you fancy a little more than just a few giggles over bevvies, then the Waldorf Astoria Dubai Palm Jumeirah has a new culinary ladies night at Social by Heinz Beck. You can expect a three course Italian set menu of specially curated dishes plus two complimentary glasses of grape or sparkling for Dh195 per lady.
Location Social by Heinz Beck, Waldorf Astoria, Palm Jumeirah Day & Time Wednesdays, 7pm to 11pm Contact 04 818 2222
---
Ruth's Chris Steakhouse
Wednesdays just got a whole lot tastier thanks to Ruth's Chris Steak House's ladies night at The Address, Dubai Marina. Enjoy 4 free glasses of grape and tuck into a delicious main course for half off! You can also enjoy an entire range, which includes crunchy salads, hearty soups (the French onion is fabulous) and fresh seafood.
Location The Address, Dubai Marina Offer 50 per cent off main course, 4 free glasses of grape Timings Every Wednesday from 7pm onwards Contact 04 4549538
---
Weslodge Saloon
---
We love ladies night at Weslodge! Head up to the 68th floor of the JW Marriott Marquis and enjoy 4 free beverages (including non-alcoholic if you're a softie) and receive 50 per cent off any main course that you order. Indulge in a delicious dinner and savour panoramic views of the city, along with the usual Weslodge feel good vibes.
Location JW Marriott Marquis, Business Bay Offer 50 per cent off food, 4 free beverages Timings Every Wednesday from 7pm onwards Contact 04 5601700
---
Thursday
People
We love any place that celebrates ladies on a Thursday night! People by Crystal is the spot to be at to get the weekend started properly. Ladies who head over to this great venue will be offered free beverages all night until 1 am.
Location People Dubai, Raffles Hotel Cost Free Timing Thursday from 10.00pm to 1.00 am Contact 050 2972097
---
Shanghai30
We love a ladies night on a Thursday! Shanghai30 will be offering a great deal on beverages from an exceptional selection and a great environment to relax after work before you head off to your Thursday night party.
Location Marriott Hotel Al Jaddaf, Oud Metha Road, Al Jaddaf Offer 3 mixed beverages for Dh9, 3 glasses of grape for Dh19, 1 bottle of grape for Dh49 Timings Every Thursday from 6pm to 10pm Contact 04 3177777
---
Yi by Yuan
Yi by Yuan is a brand-new ladies' night concept introduced by the Chinese hotspot at Atlantis, The Palm. Their special ladies night will take place from 8.30pm until 11pm, serving all night complimentary mixed beverages as well as 30 per cent off a special Yuan menu, created exclusively by their chef, David Pang.
Location Atlantis the Palm Offer Unlimited beverages and 30 per cent off food Timings Every Thursday from 8.30pm to 11pm Contact 04 4262626
---
Friday
Billionaires Mansion
The recently opened Billionaires Mansion is one of the coolest new spots in town. The innovative restaurant/bar/shisha lounge/karaoke room is the first of its kind in Dubai offering it all under one roof. On Fridays ladies get to enjoy complementary pass around canapes as well as four beverages in the gorgeously decorated bar area.
Location Taj Hotel Dubai, Business Bay Cost Free Timing Friday from 9.00pm to 12.00 am Contact 056 6783357
---
Saturday
Q43
Don't spend Saturday night in bed! Extend your weekend by just a little bit at Q43, where ladies will receive three complementary beverages from a selected list. Dance the night away with some groovy 80s and 90s tunes to really turn this night into a party. If you choose to sit down and have some dinner with your girlfriends, you have the option of choosing any three dishes off the menu for just 99 AED
---
Location Level 43, Media One Hotel, Dubai Media city Cost Free Timing Saturday from 8.00pm to 1.00 am Contact 04 4435403
---
Nasimi Beach
This ladies offer isn't about free food or beverages, this is free access with a bed to one of the hottest beach clubs in town. All ladies will get free entrance from 9am till late. Enjoy the whole day by the pool, with access to the hotel's beach as well as enjoying beats by the resident DJ who spins from morning into the night.
Location Atlantis the Palm, Palm Jumeirah Offer Free entrance and sunbed Timings Saturday from 9am till late (this offer is available everyday) Contact 04 4262626
---